By now it's an article of faith that Yemen's Houthis are Iranian proxies, but that's more a convenient fiction to justify the US's efforts to help Saudi Arabia in its war against the Houthis. From Joziah Thayer at antiwar.com:
The death toll in Yemen has reached 102,000 according to data released by the Armed Conflict Location & Event Data Project in October of 2019. Since the war started in 2015, the United States government has maintained one steadfast talking point. The Houthis are an Iranian proxy in Yemen. Government officials and those in mainstream media have repeatedly regurgitated this talking point without ever providing evidence to back up this claim.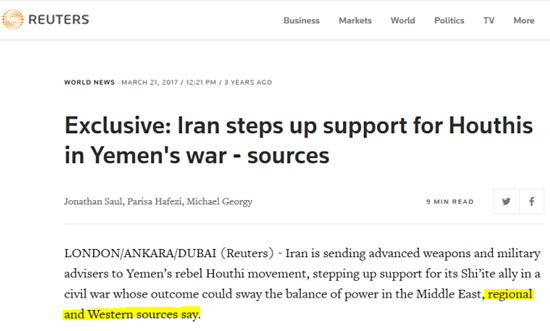 By repeatedly claiming that the Houthis are an Iranian proxy, it allows the United States government to try and justify what is happening in Yemen daily. All the United States has to do whenever a government official has to answer a question about the war in Yemen, is mention Iran. No matter how undefendable America's involvement in the war in Yemen has become the excuse to justify the atrocities in Yemen never falter, its Iran's fault.