When did absolute safety become the most important aspiration for so many people? How can they live so neurotically? From Rachel Marsden at rt.com: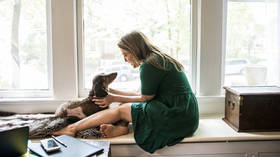 Countries are starting to open back up again, but not everyone is happy. Many of those on the Left are worried about having to emerge from hiding from the virus at home and get back to dealing with the demands of everyday life.
A Google search of the phrase "I'm anxious about lockdown ending", or for similar terms on social media, reveals a number of people who really took it to heart when the state sold them on the idea of home being a safe space from the virus.
Now that lockdown is being lifted, they're worrying about having to go back to socializing normally with people instead of living largely behind a computer screen. They're nervous about venturing out into a world of non-zero risk where Covid is still lurking. Many also apparently enjoyed lockdown because it alleviated their Fear Of Missing Out (FOMO). 
During lockdown, there were far fewer posts on social media showing people having a great time traveling or partying, thereby making others feel as though their own life was lacking. The government ordered everyone to become homebodies during the pandemic, and suddenly those who didn't particularly enjoy their life or want to take responsibility for improving their lifestyle found themselves in the same boat as the people who had pre-pandemic lifestyles they envied.