If Trump doesn't run in 2024, DeSantis has to be considered the betting favorite to take the Republican nomination. From Ivan Pentchoukov and Jan Jekielek at theepochtimes.com: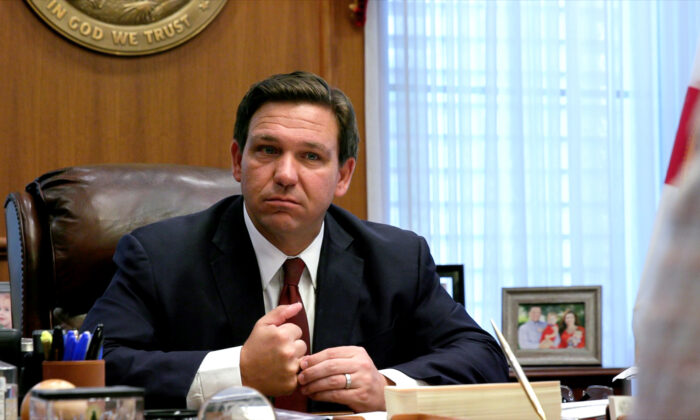 Floridа Gov. Ron DeSantis listens to a report from a member of his administration during a meeting at the governor's office in Tallahassee, Fla., on April 1, 2021. (Screenshot via The Epoch Times)
Florida Gov. Ron DeSantis issued a statewide stay-at-home order on April 1 last year, locking down the Sunshine State for 30 days amid global panic about the CCP (Chinese Communist Party) virus outbreak. Sitting in his office exactly one year later, he told The Epoch Times that the lockdowns were a "huge mistake," including in his own state.
"We wanted to mitigate the damage. Now, in hindsight, the 15 days to slow the spread and the 30—it didn't work," DeSantis said. "We shouldn't have gone down that road."
Florida's lockdown order was notably less strict than some of the stay-at-home measures imposed in other states. Recreational activities like walking, biking, playing golf, and beachgoing were allowed, while what constituted an "essential business" was broadly defined.
"Our economy kept going," DeSantis said. "It was much different than what you saw in some of those lockdown states."
However, the governor now regrets issuing the order at all and is convinced that states that have carried on with lockdowns are perpetuating a destructive blunder.
After the initial 30-day lockdown in Florida lapsed, DeSantis commenced a phased reopening. He faced fierce criticism at each stage from establishment media, as well as segments of his own constituency beholden to the lockdown narrative.