The Freedom Convoy is a regular people's protest, which scares the ruling class, because there are a lot of regular people out there, many more than the rulers. From Rachel Marsden at rt.com:
The fact that it's ordinary people behind the Freedom Convoy, rather than professional activists, has caused alarm among the ruling class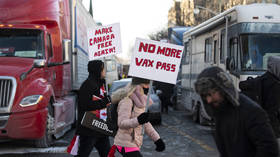 In the two weeks since the Freedom Convoy of Canadian truckers and their supporters began rallying in Ottawa to demand an end to all pandemic-related mandates and restrictions nationwide, it has become clear that this movement isn't like other protest movements. And that's a scary proposition for those in charge who thought that they'd manage and exploit this crisis on their own sweet time and schedule regardless of the actual science and reality on the ground.
There has long been an agenda to corral as many humans as possible unwittingly into a global dragnet through technological adoption. That's what the revelations of National Security Agency whistleblower Edward Snowden were about back in 2013. A technological panopticon provides those in charge with the ability to monitor and ultimately control or sanction dissidents or outliers as the state pursues the self-serving agenda of a select few. Algorithms that exploit this massive online presence enable the state to accurately craft propaganda to be deployed to vilify them in the eyes of the general population, while portraying the state as the great protector — all while selling citizens out to the interests of a select few elites. Essentially, people are manipulated into arguing against their own good.
For those citizens who aren't seduced by the mere convenience of technology or the narcissistic allure of social media, the fear of terrorism or of Covid-19 more actively encouraged onboarding to these dragnets. And that was before it was flat-out mandated with government-issued QR code health and vaccine passes that linked directly to your identity.