This should disabuse any remaining innocents of the quaint notion that the Federal Reserve isn't a tool of the banks. From Wolf Richter at wolfstreet.com:
At taxpayer expense: easiest, risk-free, sit-on-your-ass profit ever.
The Federal Reserve's income from operations in 2017 dropped by $11.7 billion to $80.7 billion, the Fed announcedtoday. Its $4.45-trillion of assets – including $2.45 trillion of US Treasury securities and $1.76 trillion of mortgage-backed securities that it acquired during years of QE – produce a lot of interest income.
How much interest income? $113.6 billion.
It also made $1.9 billion in foreign currency gains, resulting "from the daily revaluation of foreign currency denominated investments at current exchange rates."
For a total income of about $115.5 billion.
Those are just "estimates," the Fed said. Final "audited" results of the Federal Reserve Banks are due in March. This "audit" is of course the annual financial audit executed by KPMG that the Fed hires to do this. It's not the kind of audit that some members in Congress have been clamoring for – an audit that would try to find out what actually is going on at the Fed. No, this is just a financial audit.
As the Fed points out in its 2016 audited "Combined Financial Statements," the audit attempts to make sure that the accounting is in conformity with the accounting principles in the Financial Accounting Manual for Federal Reserve Banks.Given that the Fed prints its own money to invest or manipulate markets with – which makes for some crazy accounting issues – the Generally Accepted Accounting Principles (GAAP) that apply to US businesses to do not apply to the Fed.
This annual audit by KPMG reveals nothing except that the Fed's accounting is in conformity with the Fed's own accounting manual.
Here is what the banks Get:
The Fed pays the banks interest on their "Required Reserves" and on their "Excess Reserves" at the Fed. Excess Reserves are the biggie: As a result of QE, they jumped from $1.7 billion in July 2008, to $2.7 trillion at the peak in September 2014. They've since dwindled, if that's the right word, to $2.2 trillion: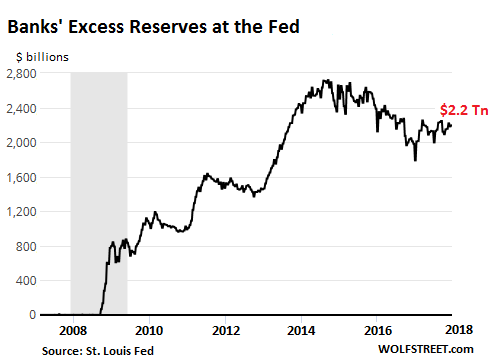 To continue reading: Fed Pays Banks $30 Billion on "Excess Reserves" for 2017