Notice the inherent contradiction between the words "demands" and "cooperate." Harris is bent on extracting the same "cooperation" at the man who holds you at gunpoint and demands your money or you life. From Katabella Roberts at The Epoch Times via zerohedge.com:
Vice President Kamala Harris said on Monday that she expects and "would require" social media companies to work with the Biden administration to prevent so-called misinformation and disinformation, and to "protect democracy."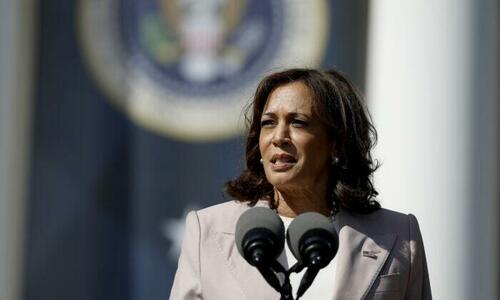 During an interview with NPR that aired on Monday, Harris was asked for her thoughts regarding the changes made at Twitter since Elon Musk took over the platform.
"I think about this issue a bit differently, which is my deep and profound concern about how misinformation and disinformation have infiltrated information streams in our country," Harris said.
The vice president pointed to her four years as a member of the Senate Intelligence Committee, during which she was actively involved in the investigation into alleged Russian interference with the 2016 elections.
Harris said that reports on the matter, both classified and public, showed that there was a "profound amount of intentional disinformation and misinformation targeting specific demographics to take advantage of what might be preexisting disparities and skepticism about the role and importance of government."
She added that this was allegedly done to weaken American democracy.