Gas prices are rising as is the price of most everything else, which means we're experiencing a monetary inflation. Blame for that can be laid at the door of the Federal Reserve. From Nathan Worcester at theepochtimes.com: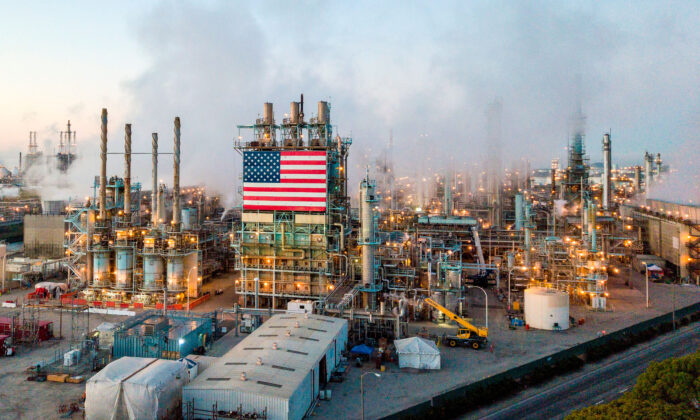 The Marathon Petroleum Corp's Los Angeles Refinery in Carson, Calif., on April 25, 2020. (ROBYN BECK/AFP via Getty Images)
The stickers are a smash hit.
At the top: President Joe Biden, pointing with double finger guns or, in one of several other versions, a single outstretched finger.
Underneath him, in bold black text: "I Did That!" or a variation thereof.
Slapped on a gas pump next to the digital meter display, the stickers tell a simple, powerful story: Today's gasoline prices, the highest in years, are courtesy of the commander in chief.
Biden, this story goes, has pursued an agenda that undermines U.S. oil and gas production and energy independence, while raising the costs of gasoline and other energy sources: halting construction of the Keystone XL pipeline, pausing oil and gas leasing on public land and water, and suspending oil and gas leases on Alaska's Arctic National Wildlife Refuge, among other moves.
Continue reading→